Complements for children's rooms
accessories for children's rooms
With Doimo Cityline also details make the difference. The brand offers for children rooms accessories characterized by originality and practicality, values u200bu200bthat become immediately tangible. An example? The functional fabric pockets, which can be placed anywhere in the room and that allow for the most disparate objects always at hand. Not only. Sometimes the design pleasure for the eyes that enriches the environment. And then there appeared in the bedroom of boys a colored cloud that can be hung on the wall, or become the front of a shelf. The for bedroom accessories are whims of taking off, innocent vices, expression of the desire to personalize their room. That the place where we grow up, we dream, we learn, is reflected. But also the place where they begin to define their own tastes. Even in furniture.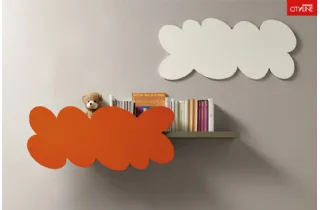 Accessory for Citylife bedroom cloud: a darredo complement designed for the little ones. Gives color to their room and at the same time stimulates ...
Accessory for bedroom Kelly Pockets: fabric, take up little space but are also roomy. Ideal for storing frequently used items such as pens, pencils, ...